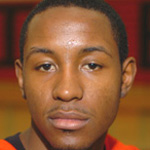 Raiders keep streak alive
The Central Lakes College men's basketball team racked up win No. 13, 104-66, over Rainy River Dec. 17 in the finale of a two-day invitational on the Brainerd campus. Twelve players scored, led by Southern Division Player of the Week Michael Farrington (pictured) with 23 points. Kwamaine Johnson added 22, Maurice Hernandez 14, and Kahreem Horsley 11. The Raiders held a 49-28 rebounding edge and were led by Maurice with 8 and Kwamaine with 7. Michael led the assist department with six. Ronnie Kornbaum led in steals with three. CLC, which led 46-26 at the half, shot 51% from the field. The Raiders are on holiday break until Jan. 6 and 7 for the CLC Winter Classic with Vermilion, Hibbing, and Minnesota West.
Women fall
A late rally fell short vs. Rainy River for the Raider women, losing 61-58, to end a five-game win streak and fall to 5-6. The team shot just 33% from the field and 46% at the line and trailed at the midpoint, 25-22. They couldn't stop Lenae Rash, who scored 35 points for the Voyageurs. Jalynn Lamb had 15 points for CLC, Betsy Helmeke added 11, Nikki Pearson 8, and Elizabeth Mattson 7. Lindsey Roos had 8 rebounds and Betsy added 6. Nikki led in steals with 5 and she and Betsy each had 4 assists. With 4 seconds left, Kara Kotzer was at the free throw line for two shots as CLC trailed 60-58. She missed the first and then deliberately missed the second in hopes of a CLC rebound and put-back, but the deliberate miss didn't catch any iron and thus turned the ball over.