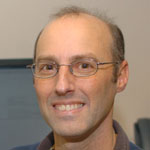 Corey Hins of Brainerd, a 1990 Associate in Arts degree graduate of Central
Lakes College in Brainerd, began working as a lead systems administrator with
the Technology Services team at CLC on Nov. 21. "Corey will be a instrumental part of our team, and will focus on designing and
engineering new technologies and systems, as well as supporting our highly
complex network and server environment," said Scott Streed, CLC director of Technology Services. Corey, who has a working knowledge of multiple
technical computer systems, has experience with Essentia Health (four years) and
ISD 181 (12 years) as a network engineer. His experience includes
working with systems such as Cisco Networking, Citrix, Exchange, SQL, VMWare,
Active Directory, Group Policy, DNS, DHCP, Windows Print Server, ISA Server, HP
SAN, Compellant SAN, and Sonicwall. He is a 1993 graduate of
Computer Science NEI, Columbia Heights, which merged with Dunwoody in 2002. Corey graduated from Brainerd High School in 1987.