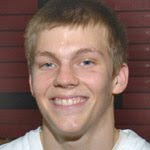 Men: Win No. 20

The Central Lakes College men's basketball team rang up win No. 20 on Jan. 19, escaping Anoka-Ramsey in overtime, 86-83, in Anoka. Nash Faulk scored 23 (averaging 16) in the wake of the Rams' MCAC scoring leader, Trey Scott (29), who is averaging 22. Maurice Hernandez added 16, Marcus Ayala 15, and Kwamaine Johnson 10. The teams were tied at 74 when regulation time ran out. Free throws down the stretch were a big help for the third-ranked Raiders, who made 15 of 24 (63 percent) for the game. CLC shot 39 percent from the floor (30-76), while the home team took just 58 shots, making 28 (48 percent). The Rams also made 16 of 20 free throws (80 percent).
Women: Top-ranked Rams rule
Central Lakes College got a look at the No. 1 NJCAA Division III team Jan. 19. Anoka-Ramsey rolled to a 78-38 Southern Division Minnesota College Athletic Conference victory over the Raiders ,who have lost nine straight. Steph Neugebauer of CLC managed 17 points but nobody else hit double figures for the Raiders. The Rams lead the Southern Division with a 3-0 record and are 17-1 overall. The Raiders are now 0-5 in division play and 7-12 overall.