Why Choose Marine & Small Engine Technology A.A.S. Degree at CLC?
• Our second year students scored 14% higher than the state average, and 26% higher than the national average in the Skills USA Motorcycle test.
• Our instructors have a wealth of experience in all areas of the marine and small engine industry.
• Our instructors have earned multiple certifications in all aspects of the industry.
• The curriculum builds from the basic to the advanced, from motorcycle to marine.
• Industry partnerships with Mercury Marine, Bombardier Recreational Products, Arctic Cat and more.
• Very strong career placement in the state and nationwide.
• CLC Marine and Small Engine students out-perform their state peers by 10% and national students by 15% on the Skills USA Marine Service Technology Test.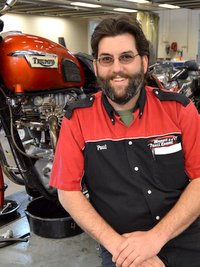 Paul Hofmann
Paul has been an instructor for the Marine and Small Engine program since 2001. He graduated from the Marine and Small Engine Technology program at Central Lakes College in 1995, and earned his Bachelors of Science Degree in Career and Technical Education from Bemidji State University in 2010. Over the years he has earned certifications with manufacturers such as Arctic Cat, Briggs and Stratton, Honda, BRP, and Mercury/Mercruiser. Email Paul for more information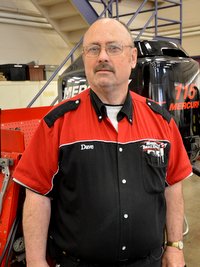 David Groshong
Dave graduated from the Marine and Small Engine Technology program in 2004 and started a small engine business. In the fall of 2004 Dave started as a substitute instructor. He became the full time college lab assistant at CLC in 2005. Email David for more information