New for Fall 2016!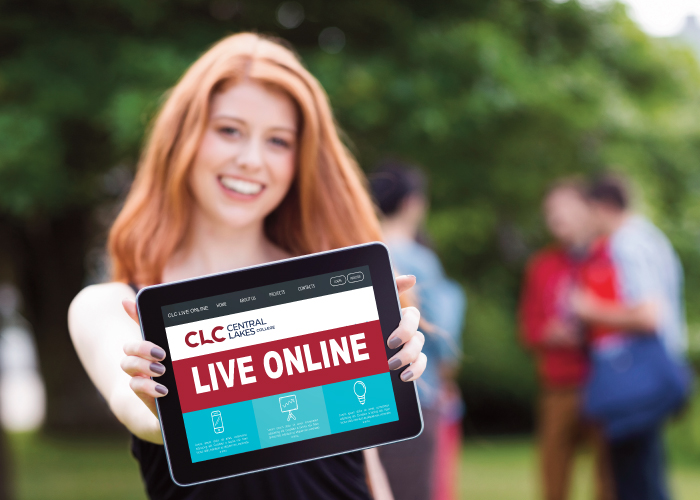 CLC is debuting an exciting new course delivery method in Fall 2016: Live Online.
Live Online classes will be delivered through the web, so students can attend in person or
online. Live or recorded classes can be accessed through Brightspace (D2L), the CLC online learning management system.
Each student can choose how they would like to "attend" class: In person (being physically present in the classroom with the instructor and other students), or live on the web (tuning in during the class time and interacting in real time with the instructor and other students). Live Online classes do require real time attendance, either in person or online.
Classes are also recorded for later viewing. This allows students to catch a missed class or review a lecture. This innovative method of education allows more flexibility as students balance jobs and family with their courses. Employees may choose to tune into a class during their lunch hour at work, or high school students may take a college class without leaving their high school campus. Students should check with their instructors regarding the specific attendance requirements of a particular Live Online course.
All that's needed to "attend" class is a computer or mobile device/tablet with a webcam and a microphone and an internet connection. Real time communication between instructors and students will result in a richer experience than taking a traditional online class, and lead to student success.
Liberal Arts Classes
The liberal arts classes offered via Live Online this year are Beginning Spanish I and II, Introduction to Theatre, World Literature, Introduction to Literature, Medical Ethics, Introduction to Engineering, Precalculus and Principles of Physics. Most of these classes are part of the Minnesota Transfer Curriculum, and all of the classes apply to the two-year transferable Associate of Arts degree
Healthcare Administrative Specialist Program
All courses within the Healthcare Administrative Specialist program, excluding one course, will be available in either the CLC Live Online format or online format.
Previous courses that require some face-to-face in-class meetings will still be offered, but now will be expanded and offered in a real-time online format. Student can log-in during the class meeting and participate in class from the comfort of their homes or their work stations. Courses offered in the LiveOnline format will be recorded for limited viewing for the rare times when students miss a class or for content viewing to help review the information discussed for student/content success. There is only one course that will require you to come in two days a week for one semester within the program. This ensures the foundational content is established for student success.
Live Online Course Schedule 2016-17
Fall Semester 2016
Engineering
ENGR 1500 20 Intro to Engineering
English
ENGL 1463 80 Intro to Literature
Healthcare Administrative Specialist
HINS 1163 20 Medical Office Procedures
HINS 1165 20 Medical Records Management
HINS 2140 20 Medical Coding II
Philosophy
PHIL 2422 21 Medical Ethics
Spanish
SPAN 1401 80 Beginning Spanish I
SPAN 1401 81 Beginning Spanish I
Theatre
THTR 1451 20 Intro to Theatre
Spring Semester 2017
Center for Manufacturing and Applied Engineering
CMAE 1502 20 Technical Math
CMAE 1502 21 Technical Math
English
ENGL 2450 80 World Literature
Healthcare Administrative Specialist
HINS 1142 20 Healthcare Information Systems
HINS 1150 80 Intro Diagnosis/Proc Coding
HINS 1150 81 Intro Diagnosis/Proc Coding
HINS 2142 20 Medical Coding III
Math
MATH 1472 20 Precalculus
Physics
PHYS 1407 20 Principles of Physics
Spanish
SPAN 1402 80 Beginning Spanish II
Technical Specifications
Students will need to have some minimum technology to participate in a Live Online class from a distance.  Students will need to have internet access as detailed below, and will point their browser to the D2L class site and then log in to their class.  Students will need a camera and a microphone in order to participate in the class.  Here are the details:
Computer: A newer Windows PC or Apple Mac computer.  Keep anti-virus, Windows Update, and security patches current to help prevent against virus and malware infections.
Tablet: iPad 3 (or newer) or Surface Pro 3 (or newer)
Web Browser: Chrome – most recent version.  (Firefox and IE will work, but Chrome is preferred.)
Internet Connection: DSL 1.5Mbps or better Internet connection.  Use of dial-up Internet is not recommended.  Go to http://www.speedtest.net to test the speed of your Internet connection.  Upload and download speed should be 1.0Mbps minimum
Web Cam: USB or built-in web camera for video
Headset: USB headset with microphone for audio
Smart Phone:  We DO NOT recommend using a phone to participate in a Live Online class, as a phone will NOT give students a good experience in the class.