Cultural Thursday on INDIA
March 7 @ 12:00 pm

-

1:00 pm

CST

Free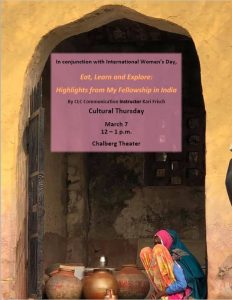 As part of a month-long series of events to recognize International Women's Day, Central Lakes College will host one of its own instructors to speak on a recent international learning experience in India. Central Lakes College Communication Instructor and eLearning Coordinator, Kari Frisch, recently participated in a January 2019 fellowship in India sponsored by the Center for American Overseas Research Centers and the American Institute of Indian Studies. Frisch will present on her experience for the March 7 Cultural Thursday at 12 noon in the Chalberg Theater.
During a relatively short amount of time, Frisch experienced a great deal of Indian culture – including many products (food, artwork and textiles), practices (every day and otherwise) and perspectives (through daily seminars with local instructors). The fellowship participants' study focused on urban sustainability, grassroots community building and responsible business practices aligned with language from the United Nations.
In addition to having the benefit of guest lecturers on a regular basis, the participants were able to process many of their daily experiences with their fellow Americans. On day five of her online travel blog, Frisch states, "It's also cool to see the potential collaborations that are already developing. That was one of the program goals but I think there will be far more tangible outcomes then any of us first expected, hopefully including a potential joint faculty professional development opportunity back here to India where we'd bring some of our own campus faculty. There's also a great deal of individual resource sharing that's already being done and more that people are willing to share that can be really useful to our own schools (and of course in our own classes). So seeing results already is pretty exciting."
Kari Frisch will share some of her many photos and impressions from this extremely active and full study abroad experience. Due to her expertise in the realm of Intercultural Communication, this presentation promises to be extremely informative. Attendees are sure to come away with quite a bit more about the diverse cultures of India in addition to thought-provoking insights formed through this study abroad experience.
Live Streaming LINK: https://www.youtube.com/watch?v=wVwlR9PCBOg
For more information about this or other Cultural Thursday programs, please contact Tracey Kloeckl-Jiménez at 218-855-8183.