Role of the Student
YOU, the student, are in the driver's seat. You make it happen! You must meet with a disability coordinator, tell us what you need, provide us with documentation of the disability, and if it's reasonable and appropriate, we will facilitate your accommodations. Self-advocacy is critical to success in higher education.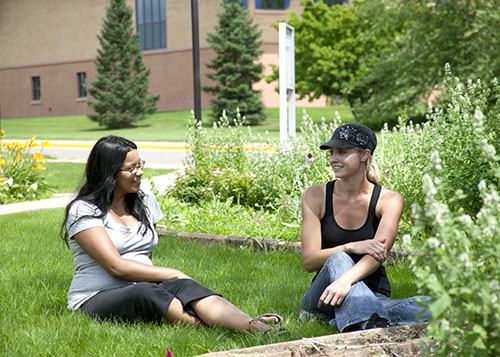 Colleges and universities are restricted from seeking out students with disabilities due to privacy laws. You are responsible for requesting the services you believe you need; the college does not provide accommodations unless or until you ask for services. The ability to advocate will benefit you in your life and career.  Below are the procedures for seeking accommodations through Disability Services.
Getting Started Procedures
Complete the Application for Services form by self-disclosing your disability. Fill out an Application for Services (pdf)
Submit RECENT documentation from a qualified professional.  See Documentation Guidelines
Return Application for Services form and documentation to Disability Coordinator in person, by mail (Brainerd Campus: 501 West College Drive, Brainerd MN 56401), or by Fax: 218-855-8267 (Attn: Disability Services)
Once your documentation and application have been processed, you will be contacted via phone call to set up an appointment to discuss your Accommodations Plan.
***Once you are approved for services and you have discussed your Accommodations Plan with the Disability Coordinator, you will be required to request your accommodations that you have been approved for EACH semester for your new classes.  Fill out your Accommodation Request Form (pdf) now.
Student Rights
The right to be treated with dignity and respect by all D.S. service providers (interpreters, note takers, student workers, office staff) and all members of the college community.
Equal access to courses, programs, services, jobs, activities and facilities offered by the university.
Equal opportunity to learn, work and receive accommodations and services.
The right to receive high quality services, accommodations and assistance in accordance with our policies and procedures.
The right to have information about your disability kept private.
Right to Disability Services at NO cost to you with the exception of personal devices or if costs are unreasonable.
Student Responsibilities
Self-identify disability status to Disability Services.
Provide current documentation about disability related functional limitations.
Request necessary accommodations by meeting with the D.S. coordinator.

Each semester you MUST request accommodations for your new classes. Please make your appointment with Disability Services before the semester starts to get your new accommodations set up or put your previous accommodations back into place AND collect some test request forms for your new classes.
Register in a timely manner with the priority registration process and notify the office of any schedule changes after initial registration if they affect your accommodations.
Complete other forms as appropriate for the situation (i.e. Alternative Proctor Request Form)
Accommodations are to help even the 'playing field' and to remove any barriers to your success. You must still meet the essential requirements of a course or program at CLC.
Follow all program, D.S. and CLC policies and procedures.
Report any grievances in a timely manner.
Meet and maintain the same academic qualifications and essential institutional standards as other students on campus.
Follow CLC's Student Code of Conduct as required of all students on campus
Here are a few suggestions:
Know yourself and your disability
Before you can advocate for yourself, you need to know how to talk about your disability in a way that other people will understand.  Come meet with the Disability Coordinator to have a discussion on this.
Know the difference between having a disability in High School versus in College Differences in Secondary (pdf)
Know your rights and responsibilities
Colleges and universities cannot close their doors to you solely because you have a disability. Central Lake College must provide services that will allow you an equal opportunity to access and participate in school activities.
Know where to go for help
A very important part of being successful in college is knowing when you need help and where to find it. Meeting with the Disability Coordinator is just one step; you should also meet with the staff at the, Learning Commons Tutors, Trio, Counselors and Faculty members. Writing down the names and phone numbers of the people on campus who can help you, is a good idea.