The purpose of the Career & Placement Services Department is to support and empower the Central Lakes College community with the resources, skills, and knowledge necessary to be successful with in career exploration, educational planning, job preparation and employment search.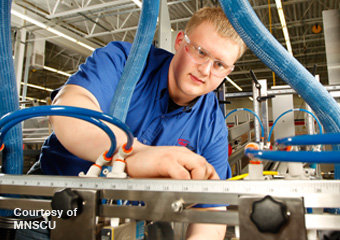 Student / Alumni
GPS LifePlan is a great resource to assess interests, explore careers, and develop plans that will lead to student success.
The Minnesota Career Information System (MCIS) allows students to research job descriptions, salary, job outlook, and educational requirements. (Please contact the Career & Placement Services Office for login information).
InterviewStream, is an innovative tool that allows students to practice and evaluate their interview techniques through online interactive video.
CLC Graduates report and update their employment or educational status on the Graduate Survey
CLC Placement Statistics (pdf) show the related employment rate for graduates from the career and technical programs.
Career Link
Placement service is offered free to students, alumni, former students, and employers in search of employment and placement opportunities through "Career Link".  Students/Former Students/Alumni can update personal and academic profile, upload or create resumes, search for jobs and apply directly to the employer.  Employers can post job and internship openings in academic programs provided by CLC, search for applicants and receive applicant resume package directly.
Student – As a currently enrolled student, you are registered in Career Link Sign into your account using your CLC Google email address as your username and create a password.  Your profile information has been uploaded but feel free to update and get started!
Alumni/Former Student – First, you will need to register with Career Link. Once approved, input your profile information, upload cover letters & resumes, search jobs and apply online!  Next time simply sign into your account.
Employer – You will first need to register for a new account.  Simply click "Register and Post Local Jobs" in Career Link to start the process.  Once approved, you can log in anytime to post jobs, search candidates and review resumes.
Contact Information
Deb Norlin
Director of Career, Transfer & Placement Services
Brainerd Campus
dnorlin@clcmn.edu
Phone: 218-855-8156
Toll free: 1-800-855-8156