Contact Us
Mailing Address:
Central Lakes Community Performing Arts Center
Central Lakes College
501 West College Drive
Brainerd MN  56401
Sonny Knight and the Lakers Show Canceled
We regret to announce that the Sonny Knight and the Lakers concert scheduled for Friday evening, January 20, has been canceled. The following is a statement released by the Kurland Agency representing the band:
"Due to circumstances beyond our control, we have been forced to cancel our appearance this Friday in Brainerd, MN at Central Lakes College's Performing Arts Center. We would like to extend a heartfelt apology to all of our fans in the North Country that have been anticipating this show. Some of our most memorable shows have taken place in that region and we can't wait to get back up there! We'd also like to thank the venue for their hard work in preparing for this event. At this time a rescheduled date has not yet been confirmed, but an announcement will be made as soon as one is."
We offer the following to ticket-holders of this show:
• Refund to the credit card in which you made your purchase
• Exchange tickets to a future show (see calendar link below)
We appreciate your patronage and understanding. While we are disappointed as well, we will make sure you are the first to know of a rescheduled date for this concert.
Patrick Spradlin, Director
CLC Performing Arts Center
Central Lakes Community Performing Arts Center
The Central Lakes Community Performing Arts Center (CLCPAC) at CLC is a regional provider of artistic learning opportunities and cultural enrichment through the performance of musical and dramatic arts. The CLC Performing Arts Center has more than 45 years of influence for thousands of guests viewing hundreds of productions in two outstanding performance spaces on the Brainerd campus — the Chalberg and Dryden theatres. Opportunities for local performing artists to ply their skills are available through the Brainerd Community Theatre. Visiting guest artists of national and international reputation are showcased as part of the Cultural Arts Series, with events on campus and, on occasion, at Tornstrom Auditorium which is located in the Washington Educational Building on Oak Street.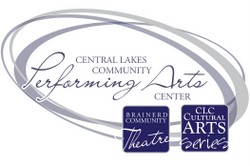 CLC Performing Arts Center Staff
Patrick Spradlin
Director / Producer
Patrick is the director at Brainerd Community Theatre.  He has directed in college, community, and professional theatres in Illinois, Michigan and Minnesota. At CLCPAC he has directed rock operas like The Who's Tommy and Jesus Christ Superstar, Shakespearean production like The Taming of the Shrew and Macbeth, and modern classics from Wilder to Mamet. He holds both an MA in speech and MFA in acting from Northern Illinois University.
Contact: 218-855-8255
pspradlin@clcmn.edu
Office E443
Jean Beckmann
Box Office Manager
Jean is a Brainerd native who's worked in both business and the non-profit sector in numerous capacities. She oversees the daily workings of the box office as well as marketing, operations management, fiscal management of the annual budget, and community relations liaison.
Contact: 218-855-8253
jbeckmann@clcmn.edu
Office E440
George Marsolek
Theatre Technician
George Marsolek was raised in NE Minneapolis where he attended DeLaSalle High School for 2 years before moving to Texas.  He wrapped up high school in Dallas and moved to Austin, TX for college, where he found his passion for technical theatre. While attending St. Edward's University he worked with many local theatre companies such as Zach Scott Theatre, Zilker Theatre Productions, the Rude Mechanicals, and Palindrome Theatre, where he designed many award-winning productions including a new version of Hedda Gabler which went on to perform at the Edinburgh Fringe Festival 2012.  He moved back to Minneapolis in 2013 and worked as Master Carpenter for the Penumbra Theatre Scenic Studio until 2015, where he built scenery for companies such as the Ordway Theatre, MN Opera, the U of M, and Theatre Latte Da among others.  He is excited to get out of the hustle and bustle of the cities and become a part of the CLC family.
Contact: 218-855-8204
gmarsolek@clcmn.edu
Office E441