Minnesota Wine Quality Alliance (MNWQA) Sample Submission form
Click here to download pdf, print and fill out the form for each wine. Follow the directions and put it in the box with the samples.
MNWQA sticker order form (pdf)
Online Classes
Central Lakes College is a part of the Viticulture and Enology Science and Technology Alliance (VESTA). VESTA is a partnership of Universities, Two year Colleges, State Agricultural Agencies, Vineyards and Wineries in 19 States.
CLC offers access to online classes taught by Industry leaders. Students gain hands-on practical experiences through mentoring with local Vineyards and Wineries. As a part of the VESTA organization, CLC offers students an Associate of Applied Science Degree or Technical Certificate with online general education courses to compliment the VESTA Technical courses. Students can also get help with finding financial assistance and local mentors in Minnesota vineyards and wineries.



For more information about VESTA, please visit http://www.vesta-usa.org/.
For more information about the Viticulture A.A.S. and Viticulture Diploma program
Form more information about the Enology A.A.S. and Enology Diploma program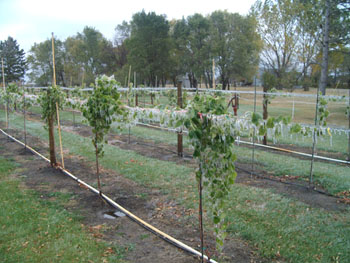 Vineyard on-site
In the spring of 2011 an experimental and teaching vineyard was planted at the Central Lakes College Agricultural Center in Staples, MN. A Pilot Winery and a Laboratory for workshops, and on the ground classes, was established at the Staples campus in 2012. The experimental vineyard and the winery provide students with an excellent opportunity to experience the real life aspects of Viticulture and Enology.
Wines and Vines
Grape growing (Viticulture) and Wine making (Enology) is rapidly expanding in Minnesota, resulting in the need for skilled workers and knowledgeable entrepreneurs. The Minnesota Wine Industry is growing at a rate of 28% annually. There are now 47 farm wineries in MN. The University of Minnesota has successfully developed winter hardy grapes with good wine quality. Consumption of wine is increasing – US per capita has surpassed Italy. Research hints that production of grapes and wine will continue to increase*. Small landowners can grow commercially on less than one acre. Jobs are also being created from tourism, as vineyards and wineries are destinations for visitors*.
*Statistics from the Economic Contribution of Grape Growers and Wineries to the State of Minnesota, August 2008. Found on http://www.mngrapes.org/.
Minnesota Wine – A very short history
The earliest wine production has been found in Armenia, Georgia and Iran from 8000 to 5000BC. The oldest winery, that was discovered Jan 2011 in a cave in Armenia, is over 6000 years old. Romans established most of the growing areas of Europe and developed presses, barrels and bottles. The Phylloxera louse devastated the European vineyards at the end of the 19th century and roots of American vines were grafted to combat these nasty root sucking insects. Thanks to the legacy of Elmer Swenson, a milk farmer from Osceola, WI who spent 50 years developing grapes , the University of Minnesota is continuing his work to develop winter hardy varieties that are sold all over the world. With over 16,000 grape varieties for genetic variation, exciting attributes are being fine tuned by scientists at the "U" that will be released in the near future. We at the Central Lakes College are enthusiastic as we watch the rising opportunities in the Minnesota wine and grape Industry.
VESTA Coordinator – Dennis Emslie-Drummond
Phone:  218-894-5133
E-mail:  demsliedrummond@umn.edu