CLC In The News
Vegetable Growers News (pdf)
The Specialty Crops Management program delivers on-time, individualized instruction to direct market fruit and vegetable growers throughout Minnesota. The instruction is designed to help growers develop the technical and management skills necessary for running a business. Farms enrolled in Specialty Crops Management vary in size from one acre to around one hundred acres. Many of the farms enrolled in the program are well established, but over a third of the farms have been growing fruits or vegetables commercially less than five years.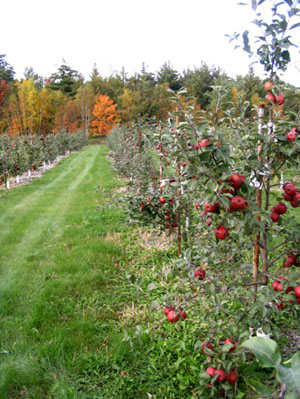 Crops that people enrolled in the Specialty Crops Management grow include:
Strawberries
Apples
Sweet Corn
Pumpkins and fall festivals
Raspberries
Blueberries
Mixed vegetables
The instruction is primarily delivered at the student's farm rather than in a traditional classroom. Appointment times are agreed upon between the farmer and instructor. In this program, the business becomes the textbook and the laboratory. With individualized instruction, the education can be designed around the student's background, needs and goals. In addition to the on-farm instruction, instruction can be delivered in phone calls, winter meetings a monthly newsletter and personal e-mails.
In 2008, the Specialty Crops program began collecting economic data from strawberry farms, apple orchards, blueberry fields and mixed vegetable farms to determine average profitability of different specialty crops in Minnesota.   Currently, we have averages both for on-farm profitability, and the profitability of different crops. The data is now available at http://www.finbin.umn.edu/ or there are summaries at http://www.mda.state.mn.us/fbm  (click on reports). Fruit and vegetable growers who want a business analysis done for their farm can receive a scholarship that will help pay for their tuition.
In order to meet the needs of the fruit and vegetable growers, Central Lakes Specialty Crops Management works closely with several other organizations, including the Minnesota Fruit and Vegetable Growers, the Minnesota Department of Agriculture, Minnesota Grown and the University of Minnesota Extension service. During the growing season, the Minnesota Department of Agriculture publishes a weekly newsletter on pest management in conjunction with CLC Specialty Crops.
The weekly Minnesota Department of Agriculture IPM newsletter can be found at:   http://www.mda.state.mn.us/plants/pestmanagement/ipm/fruit-veg-ipm.aspx
Primary Instruction Includes:
Goal Setting
Business Planning
Integrated Pest Management
Soils and Fertilization
Marketing of Fruits and Vegetables
Specialty Crop Mgmt. Instructor – Thaddeus McCamant
Phone:  218-841-9709
E-mail:  tmccamant@clcmn.edu