Renewable energy is a very broad term that encompasses many areas related to energy production. At the Center, whether the term is renewable, alternative, or sustainable energy; it is our focus to support regional economic development through partnerships that demonstrate and promote these energy sources.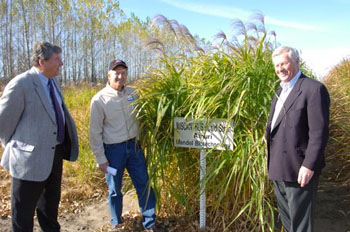 The Ag and Energy Center Strategic Plan includes a specific goal targeted to energy: to grow, process, and use products from non-food energy crops. Partnerships with Central Lakes College academic programs and departments, energy vendors in industry, and the farm community will assist in accomplishing this goal.
As information is gathered from research and demonstration projects, education and training will be provided through the CLC Customized Training Department and the Farm Business Management Program. As fuel is produced, students in the Heavy Equipment and Diesel Mechanics programs at CLC will experience the use of these products in program equipment and assist with evaluation of equipment performance for the Center.
Biofuel Energy Crop Production
Pennycress
Is a common weed being investigated as an alternative oilseed crop. The seeds oil content is approximately 36%. It can be harvested in early June allowing the possibility for another crop to be grown the same season.
Canola
Is a common crop grown in northern Minnesota and Canada. It is being included for practical comparison with other less domesticated crops. It is attractive because of Canola's potential to produce both food and fuel. It's oil content of 40 – 42% makes it higher oil yielding, and the resulting press cake is a universally accepted feed without any restrictions.
Camelina
Camelina has been identified as a potential non-food oilseed crop for the production of biodiesel. This drought tolerant, cold hardy plant produces a fine seed that is high in oil content and produces well on marginal cropland.

Biomass Energy Crop Production
Miscanthus
Miscanthus is not considered a feasible biomass crop for northern Minnesota. Research and Demonstration plots at the Center with Cold strain varieties from Mendel Biotechnology have far surpassed yields from all other biomass crops.
Perennials (Native)
Nine five acre plots have been planted at the Ag Center and surrounding area. Each plot is broken into five equal sections, each section has an individual perennial species consisting of either Prairie Cordgrass, Wheatgrass, Switchhgrass, Big Bluestem or Prairie Blend. The idea is to be able to determine which species gives the best yield in tons/acre for that soil type and area.
Terminology:
Biodiesel
Central Lakes College is researching the "Distributed Energy" concept. With Biodiesel this means producing the oilseed crop on-site, processing the oilseed on-site, and consuming the fuel on-site. The Ag Center will use this fuel to operate its 500 acre farm and to replace part of the 30,000 gal of diesel fuel used in the Heavy Equipment and Diesel Mechanics program.
Oil Extraction
Central Lakes College has purchased a German made Kern/Kraft KK-40 press to extract the oil from its oilseed crops. It can be operated continuously and will process more that 2,000 lbs of seed per day.
Converting Oil to Biodiesel
Industry partners are working with Central Lakes College on a portable biodiesel plant capable of converting the extracted oil into a drop-in diesel fuel. Early demonstrations at the Ag Center have produced small quantities, development is on-going.
Using Straight Vegetable Oil (SVO)
Effort is underway investigating the possibility of utilizing the oil as SVO in the Ag Center's tractors and some of Heavy Equipment's machines. The Diesel Mechanics program will do initial testing.
By-Products
High protein and high energy byproduct pellets are left over after the oilseeds have been run through the press. These pellets are being considered as a feed ingredient for livestock and a fuel source for the Ag Center's corn burner.
Biomass
The Ag Center will have over 45 acres of perennials and woody plant materials to utilize as biomass. The plan is to harvest and densify these on-site and utilize as a fuel source.