Partnerships are a critical component to the vision of the Agricultural and Energy Center. In order to move forward in a manner that targets industry and producer needs, it is essential that we communicate and combine our efforts to enable expansion of renewable energy in the region and beyond.
University of Minnesota
The Central Lakes College Agricultural and Energy Center has had an ongoing partnership with the University of Minnesota since 1970. This partnership has included continuous efforts with research projects on traditional field crops, horticultural crops, irrigation practices, crop production practices, and emerging crops for Minnesota.
Minnesota Department of Agriculture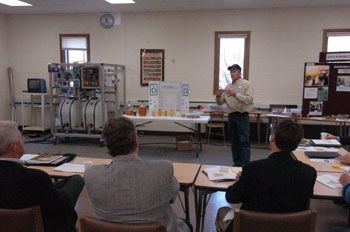 The Central Lakes College Agricultural and Energy Center has had a form of partnership with the Minnesota Department of Agriculture since the early 1970s. Early efforts included marketing promotion for emerging crops, joint demonstration projects, and educational programming. Currently staff member, Jerry Floren maintains a lab facility at the Center processing manure samples for national testing standards.
Independent School District 2170 – Staples Motley School District
Central Lakes College has had a longstanding partnership with the Staples Motley School District. This partnership took on a formal look when the Central Minnesota Demonstration, Research, and Irrigation Farm began back in the late 1960s. Through several name changes and modifications to the partnership, the relationship remains as a key factor to the success of the Agricultural and Energy Center. In addition, the High School Agriculture Education program and the Family & Consumer Sciences and Health program collaborate with the Center with community gardens and the on-site greenhouse.
City of Staples
The City of Staples and Central Lakes College partner in a unique effort to gather information related to crop production and the application of city's municipal waste plant solids as a soil amendment. This relationship has enabled the Center to expand demonstration efforts to more acreage and supports the City's effort to efficiently dispose of a waste product. This relationship has now expanded to include the development of a local recreational trail which travels through the land operated by the Center, providing easy access to the Living Legacy Gardens for local residents.
Business
SarTec Corporation, Anoka, MN – collaborator on a DOE grant investigating alternative oilseed crop production. Providing crop production consulting service.
Growan Energy, St. Paul, MN – collaborating with Ag Center as a site to test their portable biodiesel plant.
Mendel Biotechnology – testing and demonstrating cold strain Miscanthus varieties.
SynGas Technology, Elk River, MN – providing harvested Miscanthus for torrifaction tests and ultimate use in gasification.
Aveda Corporation, Blaine, MN – providing processing of alternative crop Cuphea utilizing CLC oilseed press and cleaning equipment. Also growing a test plot of Cuphea.
Anderson Brothers Construction, Brainerd, MN – providing land for alternative oilseed crops managed by Ag Center.
Buckwheat Growers, Wadena, MN – conducting livestock feeding trials utilizing by-product meal from processed oilseed crops.
ADM and Seminis, dry bean plant breeders and seed suppliers – test plots managed by Ag Center.
Winfield Solutions, provider of canola seed and technical support.
Yield plots, approximately 30 different corn and soybean seed companies.
Governmental Agencies
USDA/ARS Sunflower Research Unit, Fargo ND – Two large, long term disease studies requiring six acres of dedicated plot space and a completely automated mist irrigation system.
NRCS Plant Materials Center, Bismarck ND – provide seed and technical expertise for propagating native prairie biomass crops and also seed for the experimental oilseed crop Pennycress.
Minnesota Dept of Agriculture, St Paul, MN – administrators of NextGen grant awarded to the Center titled: Advancing Rural Fuel Production with Innovative Processing Systems and Crops.
LCCMR (Legislative-Citizen Commission on Minnesota Resources) – grant to evaluate Switchgrass as a bio-fuel crop