Demonstration plots and general production in traditional field crops has been ongoing during the history of the Center. Founded on the sandy loam farm in Staples, the initial focus was to demonstrate irrigation for the region. In the early years, several different irrigation systems were demonstrated, including: hand move gun, solid set sprinklers,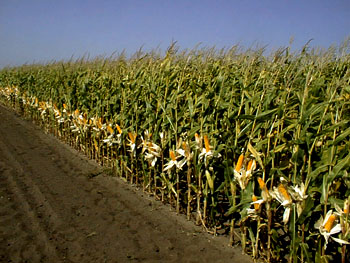 traveling gun, center pivot, side-wheel roll, and the boom system. Over time, as irrigation has become a common management tool, current systems include the center pivot and the lateral move system.
With the addition of irrigation, opportunities arose to demonstrate new practices with existing crops and expanding the regions production potential with demonstrations with new crops.  The most successful new crop demonstrated would be edible beans, which are not a common crop in the region.
Field crops demonstrations currently include: Corn, Soybeans, Barley, Edible Beans, and other crops planted on an occasional basis based on industry needs.
The Corn Yield Trials from recent years are provided in PDF format:
2005 (pdf)
2006 (pdf)
2007 (pdf)
2008 (pdf)
2009 (pdf)
2010 (pdf)
2011 (pdf) 
2012 (pdf) 
2013 (pdf)
2014 (pdf)
2015 (pdf)
2016 (pdf)
The Soybean Yield Trials from recent years are provided in PDF format:
2005 (pdf)
2006 (pdf)
2007 (pdf)
2008 (pdf)
2009 (pdf)
2010 (pdf)
2011 (pdf)
2012 (pdf)
2013 (pdf)
2014 (pdf)
2015 (pdf)
2016 (pdf)
Ron Nelson – Farm Manager
218.894.5166
rnelson@clcmn.edu
Hannah Barrett
hbarrett@clcmn.edu