Education and Training are an integral part of the mission of the Central Lakes College Agricultural and Energy Center. Dissemination of information is critical to the success of any effort to expand the knowledge and usage of new endeavors. Education is provided through general informational meetings, credit courses, and training programs.
Informational programs and tours are and will be scheduled to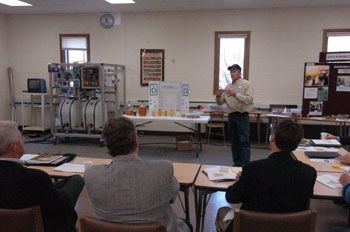 demonstrate projects in process at the Center. These events are hosted by the college and in partnership with local banks and industry partners. Below is a listing of the meetings that are normally scheduled. Watch notices on the home page for other programming.
Credit courses are available to support demonstration and research results. These courses are offered through the Farm Business Management Program, the Specialty Crop Management Program, and the Viticulture & Enology Program.
Additional courses will be offered through these programs that include a distance (web-based) delivery component. More information will be provided as these courses develop.
Training will be provided through the Central Lakes College Customized Training Department. Customized Training is known for providing targeted training that meets the unique needs of business and industry.